Offering Pharmacy Franchise in India
Stepmeds provide accurate, authoritative & trustworthy info on medicines & help people use their medicines effectively & safely. Their services involves delivering medicines, other healthcare & OTC products at your home i.e PAN India from licensed & verified pharmacies. They also provide lab tests from certified diagnostic's & online doctor consultation at anytime from anywhere.
Stepmeds continues legacy of success in the pharmaceutical industry. They are committed to provide safe, reliable & affordable medicines as well as customer service philosophy that is worthy of their valued customers loyalty.
Stepmeds offer a superior online shopping experience which includes ease of navigation & absolute transactional security.They use digital platform to reduce cost & convenience with trusted quality medicines, OTC products & other health care services like Lab tests & Doctor consultation to find it easy & simple at one place making it one of the most affordable and best Pharmaceuticals franchise in India.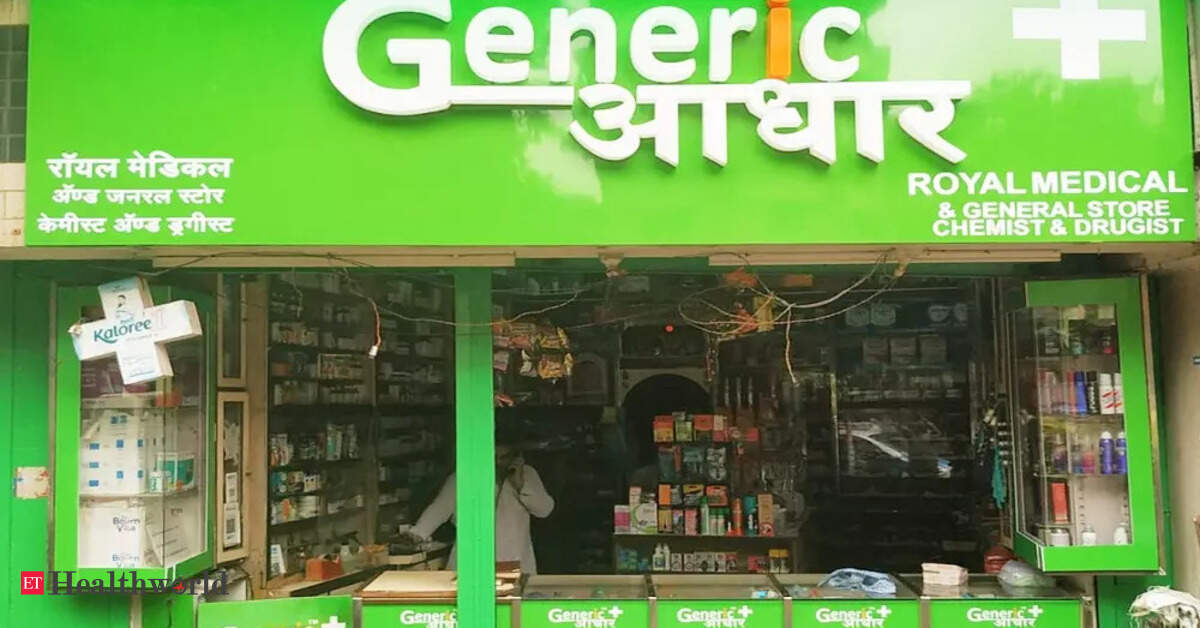 Offering Pharmacy Franchise in India
Generic Aadhaar is a young and innovative venture founded by one of India's youngest entrepreneur, Mr. Arjun Deshpande with the sole mission to provide affordable and accessible high quality medicines to every Indian.
Honourable Mr. Ratan Tata joined hand with Mr. Arjun Deshpande in this highly impactful venture Generic Aadhaar for betterment of every Indian.
Now, Generic Aadhaar is present in Thane, Mumbai, Bengaluru, Odisha. Further we have finalised many franchisees across 20 cities in India in various states like, Maharashtra, Delhi, Uttar Pradesh, Rajasthan, Madhya Pradesh, Tamil Nadu, Telangana etc. Generic Aadhar is helping to solve the problem by aggregating single mom ad pop chemist stores, therby completely eliminating the high cost of middlemen (stockists, distributors, etc.) which in turn shall reduce the cost of generic medicine for the end customer, cutting down high promotional cost involved in single generic medicine marketing, creating a win-win situation for single stores as well as the end customers. Helping all single stores to get their golden days back by increasing their profit percentages, making sure every Indian gets best quality and affordable medicines which in turn helps in betterment if the quality of their life, selling all the medicines under Generic Aadhar brand exclusively at Generic Aadhar stores across India.
Under Generic Aadhaar® umbrella the brand provides quality medicines from reputed pharma companies by offering upto 80% lesser prices. It provides biggest portfolio of Generic medicines from government approved quality manufacturing facilities.
One of India Youngest Entrepreneur with his innovative venture 16 years Arjun Deshpande became Founder of Generic Aadhaar® his story is been covered by majority of Media Houses eg; ABP News, CNBC, ZEE, Samaana, YourStory, CNN, Aaj Tak and all other majority of media houses Is also been recently Awarded for his Innovative venture "Student Entreprenur of the Year 2019" by World's biggest Entrepreneurship Event " by Entreprenur India, Entreprenur Magazine and Zee Business" On 18th July in JW Marriott New Delhi.
By mid 2021 they will have 1500 aggregator stores making it one of the most affordable and best pharmacy franchise in India.
Offering Pharmaceuticals Franchise in India
One of the leading PCD Pharmaceuticals Franchise in India, V Care Biotech offers WHO-GMP certified products in diverse pharmaceutical categories. The products widen in different groups such as injectables extend in altered types comprising Antibiotics, Antihistaminic, Derma care, Pain management, Cardio-diabetics, Softgels, Multi-vitamins, NSAIDs, and Neuropsychiatric agents. The product range of the company even comprises of Gynaecological, Cosmetic, and Lifestyle products.
Why Partner with V Care Biotech?
Elite marketing rights with monopoly plans for agreed areas
Marketing material support and access to incentive schemes
Gift schemes and new product promotion tactics
Customized pricing proposals for bulk product purchases
Additional advertisement backing and monthly promotional schemes
Offering Pharmacy Franchise in India
Started its first pharmacy store in Bangalore, MedZone is one of India's leading pharmacy chain serving countless customers daily. Its stores are conveniently located just a few steps from the customers' homes and offer a wide selection of prescription medicines and general FMCG goods. Convenient home delivery is available in several locations. MedZone believes in value pricing and treating customers fairly. It offers various discounts on all medicines and general FMCG products to all its customers.
Medzone was started by Dr. Ethix Products And Service Pvt Ltd with a vision to provide affordable and quality medicines to the masses. It is a well known fact and truth that all the medicines are being sold almost 10 times its manufacturing cost in the market. With the availability of numerous brands and compositions the end product reaching to the consumer has become expensive and unaffordable.To break this stereotype Medzone has floated as a chain of pharmacy franchise and also with a strong online presence pan India. Consumers can reach out the nearest store or purchase medicines online as well in an extremely affordable prices and discounts offered by the company. MedZone pharmacy Franchise is the perfect destination for over 1000's of customers daily for all their medicine needs, across India. MedZone pharmacy franchise business model, supports you with monopoly right, equity ownership, autonomy, management of your own business and long lasting relationship with your customers,  which forms the base for a profitable service industry in your preferred location.
Dr. Ethix is contributing to the medical and health care fraternity for more than 2 decades now. Make in India being the concept by offering best quality medicines to their franchise partners. To ensure a good and sustainable business model Medzone has the lowest of the investment in the market with a customizable model for every franchise partner. Operational independency with the availability of all the brand medicines is their uniqueness.
Offering Pharmacy Franchise in India
Medlife is a holistic healthcare company that aims to make healthcare accessible and affordable in the country. In order to streamline the functioning of the health industry, they have brought doctors, pharmacists, phlebotomists and consumers under one digital ambit. This will save the people from the burden of waiting in long queues, riding to a medical store or visiting a doctor.
It was started with a simple thought of providing affordable and accessible healthcare services for all in the country.
Medlife began with providing services in just 85 pin codes in Bangalore and later expanded its operations in Mumbai, adding to 140 pin codes.
Medlife.com is a 'Technology company with a heart and dream that every Indian gets to access the best possible health care'. They intend to be a one stop healthcare hub that would bring all stakeholders on a single platform which would enable their customers with a seamless health care experience. In short it aims at making Healthcare delivery simple, accessible and affordable.
Medlife is currently operational in 13 locations across India,
They are backed by promoters with humungous experience in pharmaceutical and healthcare e-commerce businesses coupled with owning successful global e-commerce businesses for a decade plus. Making it one of the best Pharmacy Franchise in India.
Offering Pharmacy Franchise in India
SastaSundar is a digital platform of healthcare supported by a network of physical counselling and service centres called "Healthbuddies". The service verticals of SastaSundar are Pharmacy, Diagnostics and Wellness.
SastaSundar acts as a bridge between users and the Independent Licensed Chemists and enables users to place their inquiry. It is supported by a network of Independent Licensed Chemists (sellers).
Keeping in mind the customer requirement, they offer multiple brands across categories to facilitate the purchase of favourite brands. Select from a gamut of brands like Patanjali, Himalaya, Nivea, Kelloggs, ITC, Horlicks, Complan, Protinex, Pediasure, Gillette, Dove, Nestle, Harpic, Johnson, Dettol, Dabur, Garnier, L'oreal, Oxy, Acnes, Sri Sri, HUL, P&G and many more with the convenience of free home delivery.
SastaSundar has its presence in all the 23 Districts of West Bengal and has already started its operation in Delhi – Haryana, Jharkhand and Western Uttar Pradesh and very recently, also in Bihar. Additionally, their online services and OTC products can be availed PAN India. Making it one of the best Pharmacy Franchise in India.
Offering Pharmacy Franchise in India
The first MedPlus pharmacy store was opened in February 2006 in Hyderabad and over the last decade has grown into the second largest pharmacy retail chain in the country with over 1500+ pharmacies throughout India. Medplus today serves over 3,50,000 customers daily and employs over 10,000 people.
Their online pharmacy & general store, MedPlusMart.com, launched in 2015 has quickly grown to become the biggest e-Pharmacy in the country today. Through MedPlusMart, customers can buy medicines, OTC products, FMCG and nutrition products from the convenience of their home or through mobile, read important information about medicines, store their health records, view their prescription history and redeem rewards.
They have come far but will continue to strive to improve themselves everyday and aspire to be India's favourite healthcare provider with the highest standards of service excellence.
MedPlus vision is to be the first choice of customers for their health and wellness needs by consistently understanding and exceeding their expectations. Making it one of the best Pharmacy Franchise in India.