Human Resources is one of the most vital elements of any business. Be it a consultancy service, financial service or a fast-food franchise. It would help if you had a quality workforce for the success of your business.
If your business or franchise lacks in the HR department, you may not be able to cater to customers' demands efficiently. You may even lose some high-value customers because of longer wait times than your competitors. This affects the profits generated, and in worst cases, the business may make losses.
While many franchise owners may be good at knowing the stuff regarding their franchises, they may not know how to handle the people or how to recruit them. Because of this, many businesses outsource their HR needs. Professional Employer Organisations (PEO) are outsourced human resource managing organisations that offer HR services to businesses.
According to some statistics, PEOs help businesses to get reliable employees, decreasing the turnover rate. The HR administration cost is also lower compared to in-house HR.
Other than these benefits, PEO also gives your franchise the following benefits:
Compliance with the Regulations(PEOs)
There are many regulations a business must follow when employing people. They must have an employment agreement that states the details of their employment. The contents may include the work hours, compensation, post, etc.
The business also needs to provide a timely salary, provident fund, gratuity, safety, and many other things which are forced by the rules.
PEOs help small businesses or franchises by handling all these tasks and help your business by not getting in trouble by breaking any laws unknowingly. The professionals in a PEO may notify of new regulations of the business owner so they can make preparations for it.
Human Resource Assistance (PEOs)
PEOs provide professional HR advice to the businesses like small startups or franchises that can't afford human resource personnel.
The laws may have slight changes in different regions, and a new business owner may not be able to know all of them. PEOs help the businesses with their HR professionals who act as advisors to the business owners. They also take care of employee relations and process the payroll for the staff.
Hiring and Training the Employees
One of the biggest headaches to any business or franchise owner is hiring employees and then training them. PEOs offer these services to franchise owners so they can focus on other important matters concerning their business.
PEOs have a vast network that they use to find talented staff for their clients. You don't need to spend much time and money on posting job ads and picking the right people for the job.
Most staff hired may not have the skills necessary for your franchise. They need the training to work efficiently in your franchise. PEO takes care of training the staff and provides a skilled workforce so your business runs smoothly.
Compensation to the Staff (PEOs)
Most states need businesses to offer life or health insurance to their staff. The business also needs to take care of the social security of their personnel, taxes, etc. PEOs take care of all such regulations for your franchise.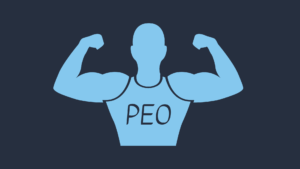 One benefit of hiring a PEO is that insurance is cheaper as they manage hundreds of employees. They get to purchase the policies for which they receive a discounted price, saving some money for your franchise.
They also manage staff provident funds and gratuity on behalf of the employer.
There are many such concerns a business needs to face with human resource management. PEO helps many enterprises tackle such issues and gives your franchise an advantage over your competition.